About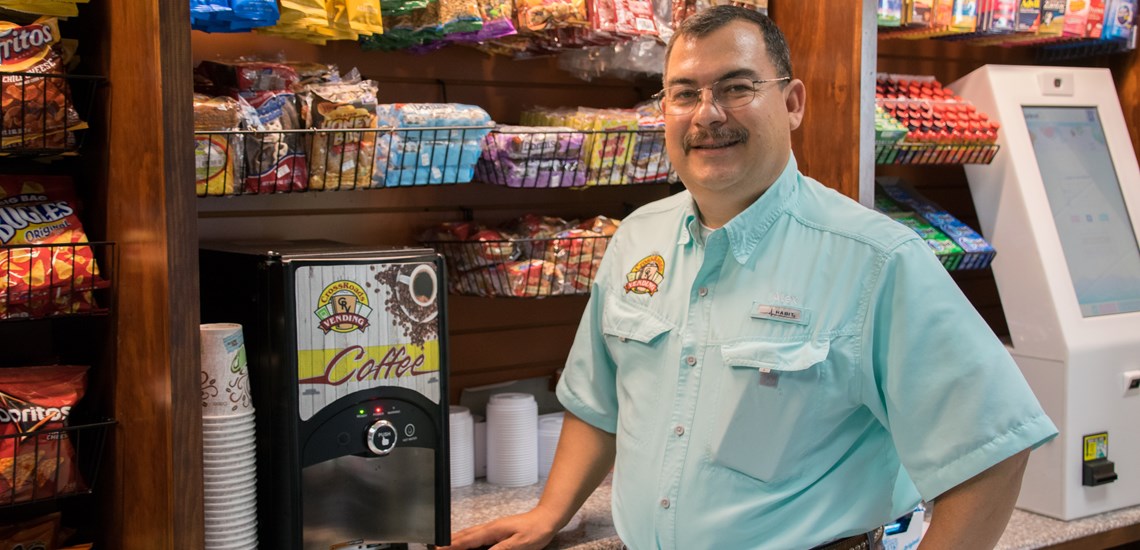 ABOUT US
We are extremely excited to start this journey and are humbled by the outpour of support we are receiving.  We have a strong faith and through hard work, honesty, respect and presenting our services to the community we will establish strong and enduring relationships and the best service and look to exceed our customers expectations.  
The geographical area we will cover is the Crossroads counties. CRV will offer full line vending services that include but are limited to the following services:
The Market- A Micro Market concept utilized in a secure environment that is a new alternative to vending as we know it.   This concept replaces a bank of traditional vending machines and offers a more personalized way to purchase delicious and healthy food and a variety of drink and snack options, through the convenience of a self-checkout kiosk that is able to accept a multitude of payment methods.   
Vending- Utilizing new technology to reinvent vending we provide new state of the art vending equipment with smart vend technology and credit card readers for a more pleasant and convenient vending experience.
Office Coffee Systems- whether you are a small office or a large manufacturing facility CRV can help you tailor design a coffee program that meets your needs and surpasses your expectations. We have a large selection of brew coffees to choose from and have specialty liquid coffee machines to handle large population, and if it's a specialized coffee machine you need to produce latte, Cappuccinos, Mochas or your favorite creation well, we can help there too.
Concessions- We are proud to bring you a great selection of options for all your concession needs from equipment rentals to all your snack and drinks options we have you covered!
Our vision is simply to provide quality service that continually exceeds the expectations of our partners!
The reason why the vending guy crossed the road well, to make you Happy, we will gladly Cross any Road for YOU!
We are a women owned family business and our families have been actively involved in our community for over 25 years our children attend our local schools within VISD and Victoria College and Texas State University. We embrace hard work ethics, respect, honesty and faith in every aspect of our business.
Things that set us apart from the other vending companies:
We make local decisions as our main office is located in Victoria, TX
We have The Market (micro market), we have a full market displayed for your viewing and interaction so stop by our office and see it for yourself, we can tailor build your market.
We carry a full line of concession products and rental concession machines you are able to view on our website.
We have a large selection of office coffee and many confectionary products for your on-line viewing.
We have partnered with a Texas company - Parlevel from San Antonio and a leader in the Vending and Micro Market software provider.
508 Profit Drive
Victoria, TX 77901
Phone: 361-573-7100
Fax: 361-573-7101
Cell: 361-212-5662